Closing Arguments
Loyola Vis International Commercial Arbitration Mini-Moot
Loyola again hosts its annual Vis Mini-Moot on February 27, 2010. It is co-sponsored by the Chicago International Dispute Resolution Association (CIDRA), and the Chartered Institute of Arbitrators (CIArb).
The Mini-Moot serves as a practice moot for student teams going to the Vis International Moot Arbitration Competition in Vienna and Hong Kong. Students who participate in the Mini-Moot are predominantly from schools in the Midwest, although teams from Canada and California have also participated.
Arbitrators come from as far away as England, Toronto, and New York. The event is organized by Professor Margaret Moses.
Welcome New CIDRA Intern Sean Starr
Sean Starr is CIDRA's new intern for Spring 2010. He is a third-year law student at DePaul University College of Law whose primary focus is international commercial law. Prior to law school, Sean spent several years teaching English at various universities in the Chicago area. He considers the transition from literature to law a natural and inevitable part of his education. Sean's interest in
international law stems from his travels abroad and a desire to expand his participation in the global society.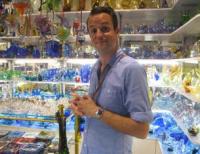 Sean in a Prague
hand-blown glass shop
At DePaul, Sean has participated in study abroad programs focused on international commercial law in Prague, Buenos Aires, and Madrid. He is also the Editor-in-Chief of the DePaul Business and Commercial Law Journal and Articles Editor for the DePaul Rule of Law Journal. In addition, Sean is part of the DePaul International Arbitration Team that will travel to Hong Kong for the Vis Competition in March. Sean intends to pursue a career in international law focused on commercial arbitration. Ultimately, his interest lies in the relationship between cogent business laws and practices and development and stability in emerging markets. Sean is excited to work for CIDRA and looks forward to the practical and educational experiences that this opportunity affords.
NOTE FROM THE EDITOR:
It is our goal to bring you timely and relevant news briefs concerning international commercial arbitration. Please let us know what interests you and your practice. Email me with any comments, suggestions or ideas for future events, speakers and issue coverage at . I look forward to hearing from you.
Sincerely,
M. Scott Leonard
CIDRA Law Associate
Newsletter topics were selected and arranged by Sean Starr, CIDRA Intern and 3rd-year student at DePaul University College of Law.